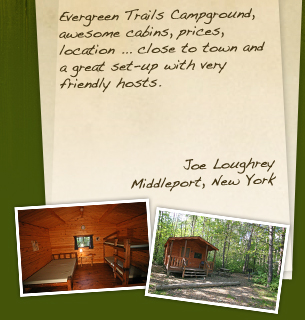 Attractions in Angelica NY
Come discover all that Angelica NY and the Southern Tier of New York have to offer. Filled with quaint shops, charming historic homes and fine antique stores, Angelica NY is a place where you come to unwind and enjoy a slower pace of life. While getting away and visiting Angelica NY, be sure to visit these great attractions and events in the area.

The Allegany County Fair
---
The Allegany County Fair comes to Angelica NY each and every year in July and brings with it tons of old fashioned fun. For an entire week the fairgrounds are the center for agricultural exhibits and tons of entertainment for the whole family. Many crafters and specialized artisans live in and around the historic region of Angelica and come to the Allegany County Fair to display their items and special products. At other times of the year the Allegany County Fairgrounds host other events like the Shawmut Rail Exhibits and steam engine shows. About 7 years ago, the Rockville Folk Festival took place here as well and became known as Porkstock, however this event has not taken place since 2001.

The Angelica NY Historic District
---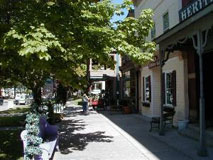 This delightful region of the village contains over 100 historic buildings and homes and many are listed on the Historic District of New York Registry and the National Historic Registry. Special points of interest here are the Town Hall (which was formerly a County Building), Angelica Park, and four captivating church buildings located in the Park Circle area. For some great antique shopping and hard to find crafts, be sure to browse the adorable shops and antique dealers that are located along West Main Street.

Angelica's Park Circle
---
Angelica is also a favorite among bikers and outdoor enthusiasts with miles of biking trails originating from the village center.

Angelica Community Yard Sale Event
---
Every year on the third Saturday in May over 100 households in Angelica NY get together to sell and display their household goods. This grand community yard sale event has become quite a hit over the years and is a great place to pick up a variety of bargains and antiques.

Letchworth State Park
---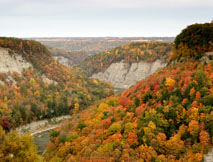 Pristine Letchwork State Park, an area that has been hailed the "Grand Canyon of the East", offers gorgeous scenery as the Genessee River snakes through the gorge creating some truly magnificent spots. This wonderfully preserved region encompasses over 14,350 acres and is home to three gorgeous waterfalls, one of which falls more than 107 feet into the plunge pool below. Renowned for these three beautiful waterfalls and picturesque scenery Letchwork State Park is a natural wonderland. Filled with over 66 miles of hiking trails, all of which are perfect for not only hiking but also mountain biking, horseback riding, snowmobiling and cross country skiing, Letchwork State Park is a nature lover's paradise. Spend the day exploring the wilderness around Letchwork State Park. Other popular activities at Letchwork State Park include white water rafting, kayaking, hot air ballooning, as well as winter fun like ice skating, snow tubing, snow mobiling and horse drawn sleigh rides.

In addition to its many outdoor activities, Letchwork State Park hosts several lectures and educational programs each year at the park. Visitors can take part in one of the many historical and natural education programs to learn more about the region that Letchwork State Park encompasses and the unique flora and fauna found here. Letchwork State Park is the largest and most diverse state park out of nine other parks in the Genesee State Park and Recreation Region, be sure to visit when you stay at our Campground in New York State which is just a short drive away.

Combined with the Events For The Southern Tier NY and our beautiful facilities, Evergreen Trails is the perfect choice among private campgrounds in NY . Whether you are looking for a Western NY vacation or romantic getaway in one of our NY Log Cabins, our NY Campground, surrounded by the beautiful Allegany Foothills, is the ideal escape.


---
Click on the following links for more area activity information:


Make your plans early to enjoy our Western New York Camping, NY Log Cabins, or RV/tent sites.
Please contact us at 585-466-7993, email us or use our online request form.